Anti-Ram Bollards from Auckland
Burglars are increasingly using extreme measures like ram raids to make a quick steal.  This is devastating for any business owner or manager as the whole front of the building is often destroyed, with time spent dealing with police, insurers, property owner, builders, suppliers and customers.   One of the most recent high-profile ram raid burglaries was at the Parnell Art Gallery in April 2017, resulting in the loss of two paintings valued at $1 million. You can read the full news story here.
Xpanda's range of retractable security grilles and barriers, steel gates, welded bars and solid steel doors are excellent at preventing a quick smash and grab by burglars. Xpanda specialises in ram raid protection and commercial and industrial security. As ram raid protection experts, Xpanda manufactures a range of bollards and ram beams which can be custom-made for a variety of applications.
Some types of ram raid protection like bollards are only good for traffic control and protecting pedestrian areas, and are often seen in shopping malls, carparks and public areas. These bollards are generally mass-produced, poor quality, and lightweight with a hollow core, offering minimal resistance when impacted.
To be effective as ram raid protection, bollards need to be manufactured with much thicker material, be set in concrete and not bolted down, and have stronger locking mechanisms.  Xpanda bollards are designed to prevent vehicles smashing into shopfronts in a ram raid deliberately, or by accident.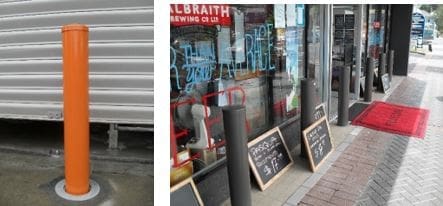 At Xpanda Security we are industry-leaders in offering ram raid protection like anti-ram bollards to New Zealand businesses, and will not compromise when it comes to quality. We aim to surpass industry standards when designing and manufacturing security grilles, steel gates, and security barriers.
Our fixed bollards are a galvanised steel pipe 165mm in diameter, and have a 3.5mm wall thickness. Once installed into the ground they are filled with concrete, thus providing a bollard that will not collapse and fold when impacted during a ram raid. Xpanda bollards are spaced at 1500mm to prevent smaller cars getting through. As ram raid protection experts we understand exactly which security measures need to be taken to prevent theft.
Where bollards cannot be installed, Xpanda uses ram-beams, which when manufactured and installed correctly are just as effective against a ram raid as anti-ram bollards.

At Xpanda we believe layered security is essential, and that relying on just one layer will not stop a determined break-in attempt.  Besides our ram raid protection, we also offer a complete range of building security barriers like retractable and fixed security grilles and gates.
If you are serious about your security, talk to Xpanda Security.